Africa is a truly magical place and a vacation there with your partner is sure to send sparks flying. We've compiled this list of some of the most breathtaking experiences that are best enjoyed with your loved one. Let the day dreaming begin!
1. Treehouse Sleepout – Lion Sands Game Reserve, South Africa
If you like the idea of shedding your suite's walls or tent's thick canvas for a night and sleeping under the stars, then sleeping in a treehouse is a must. You don't have to sacrifice any of the comforts of your typical suite or tent to gain the exposure to the magical African sky. Both the Chalkey and Kingston treehouses in the Lion Sands Game Reserve of Kruger National Park are incredibly romantic. Lit by lanterns, candles, the stars and the moon, you can enjoy a private sunset dinner followed by a night engulfed in the African night. It's nothing short of enchanting.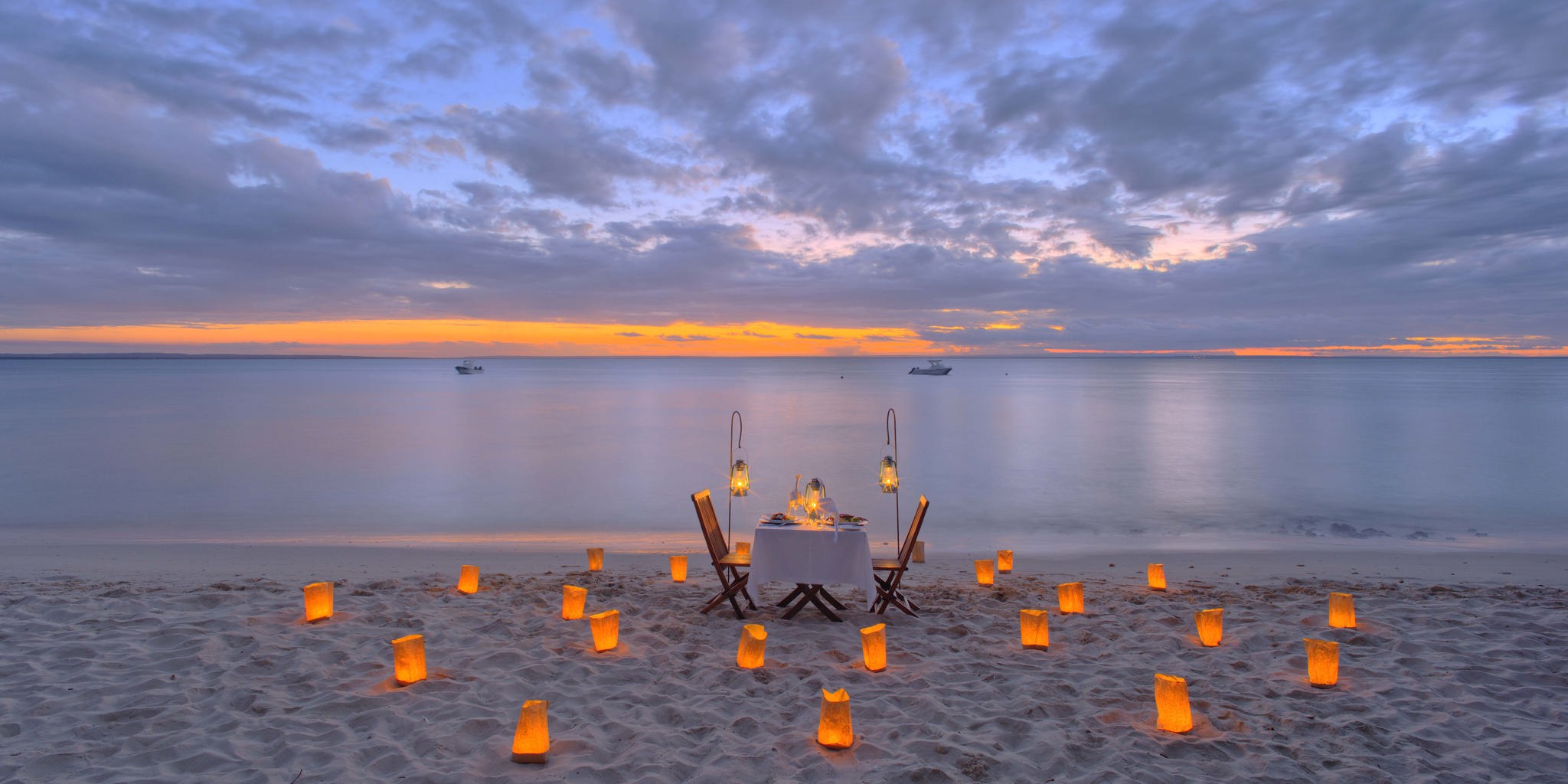 Azura Quilalea is on an uninhabited private island in Mozambique's Quirimbas Archipelago marine sanctuary. With only 9 seafront villas on the entire island, the exclusive Quilalea is teeming with romance. With the perfect mix of adventure and relaxation, pretty much every activity on this lush and beachy paradise can be romantic, but we simply can't get over the secluded beach picnic. To go for a walk on the island with your loved one only to have a surprise beach picnic arranged for you is nothing short of magical. Whether you're nestled into an alcove where the beach meets the forest on a blanket with your toes in the sand or if you're treated to an elegant candle-lit dinner for two on the beach, you will be in true paradise with your loved one.
Imagine going on an evening game drive where you've witnessed some of Africa's most iconic wildlife in their natural habitat and then coming back to camp only to find a private bathtub next to a fire pit with a bottle of wine waiting just for you. At Serian Serengeti North, they have truly perfected the sundowner for romantics. Take a step away from the rest of the camp's guests and enjoy a beautiful Serengeti sunset in a big and luxurious bath – soaking up your surroundings and your loved one in a lavish bush bath.
Greystoke Mahale is a beautiful property in the Mahale Mountains National Park – a very off-the-beaten-path region of Tanzania. We love Greystoke for its intimacy and versatility. It sits at the base of the Mahale Mountains where you can go chimp trekking, yet also sits ashore the vast Lake Tanganyika, achieving a beach experience. Our favorite part of Greystoke is the romantic dhow sundowner cruise. There is no better way to finish a day of rugged chimp trekking than hopping aboard an old wooden dhow and sailing off into the sunset with a drink in hand and a loved one by your side.
Ol Malo Lodge in Laikipia has a private helicopter that can take two passengers on day trips in the region. Our favorite experience here is a scenic flight to Lake Turkana where you get dropped off and enjoy this completely remote desert lake for an afternoon. The incredible landscape is otherworldly and you'll want to run around and explore this incredible destination with your loved one.
South Africa is a goldmine for foodies and wine enthusiasts alike. There are a number of amazing restaurants, vineyards, and tours you can do to have a real culinary experience. We recommend heading to the Cape Winelands for a world-class food and wine extravaganza with your loved one. With rolling vineyard-strewn hills, adorable boutique properties, and mountains in the distance, the Winelands is picturesque, quaint, romantic, and delicious. Forbes Magazine has declared The Tasting Room (inside the luxurious Le Quartier Francais inn) Africa's best restaurant and it is definitely worth the visit. Try their 8-course dinner with wine pairings for a truly sumptuous evening.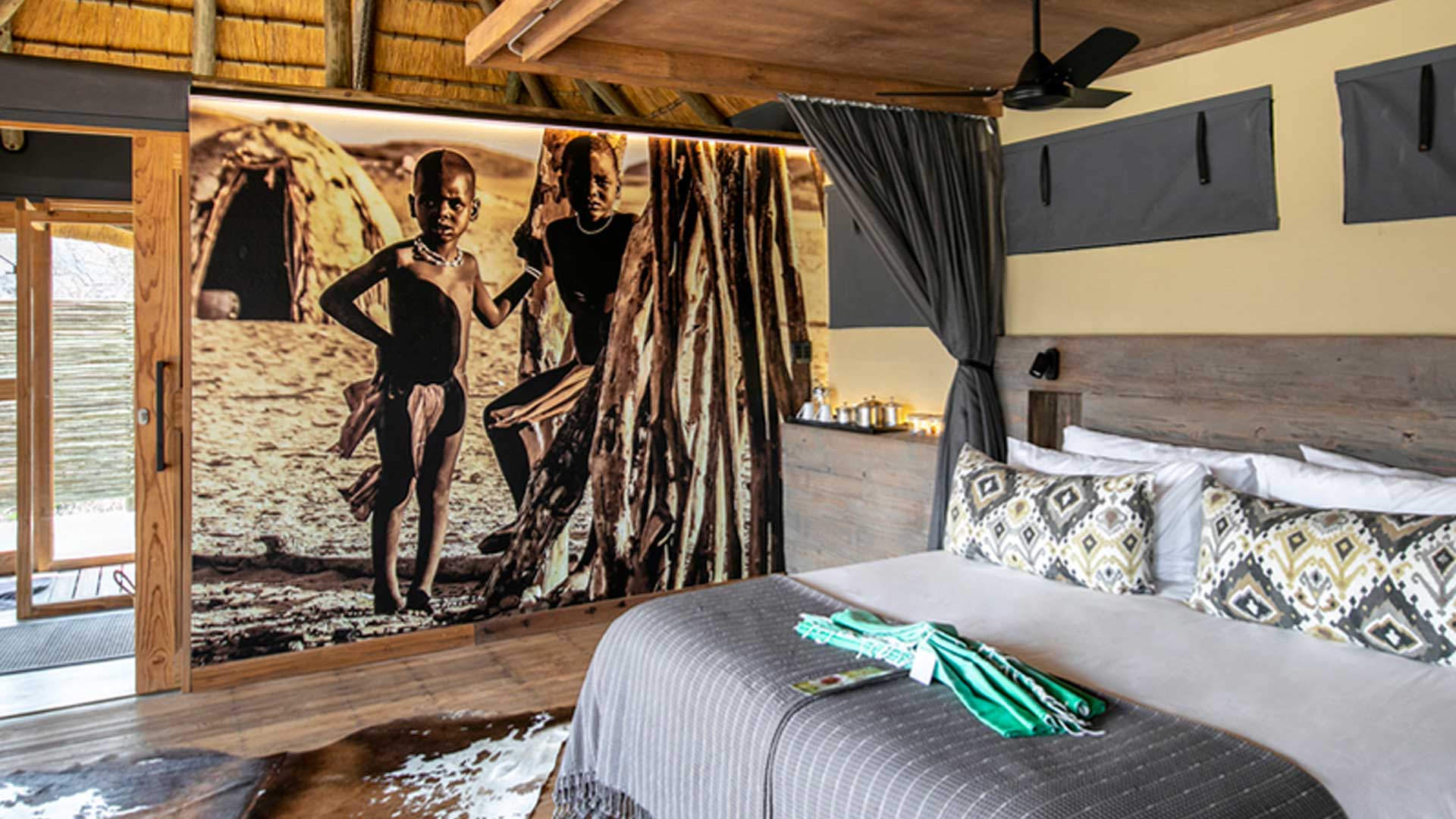 Serra Cafema is Namibia's most remote and luxurious camp. That fact is romantic in itself, but the sheer beauty of this camp is what really transports you and your loved one to a desert paradise. Set along the banks of the Kunene River in a desert oasis, this luxurious camp has 8 riverside villas with elevated decks for incredible views. The villas are very private with outdoor showers and rustic yet elegant and spacious interiors. Even without Serra Cafema's incredible activities and cultural experiences, your villa will be reason enough to venture on this romantic retreat. As Dania says, Serra Cafema is "to die for."
Sarara Camp falls off the beaten track for a typical Kenyan safari, but we adore this property for its intimacy and ability to incorporate their incredible surroundings into the guest experience at the camp. Their infinity pool faces the Mathews Range and sits just above the camp's waterhole which provides hours of sheer relaxation and serenity. If that doesn't do it for you, you can arrange a private dinner, away from the rest of the guests, where you can enjoy your romantic candlelit meal in solitude with just your loved one and the unmatched views.
Located in the Malilangwe Wildlife Reserve, Singita Pamushana is the most remote and luxurious property in Zimbabwe. In addition to their impeccable service, excellent game-viewing, and great guiding, just staying at Pamushana makes you feel like royalty. The incredibly spacious suites have private plunge pools and options for private dining. And it's excellent for couples with or without kids – parents can take a much-needed break from their children by utilizing the babysitting service and enjoy a romantic evening on their own. And couples without kids won't be bothered by other families because of the privacy that they're granted. In true Singita fashion, you'll experience unrivaled tailor-made luxury and romance.
Africa is incredibly wild, beautiful, and romantic. If you're hoping to make a formal declaration of your love, there are some amazing places to have a wedding ceremony or vow renewal. Chem Chem Safari Lodge is our favorite place to do this. On the banks of Lake Manyara at the base of the Rift Valley, Chem Chem will arrange a beautiful rose-strewn ceremony for you that is beautiful and romantic beyond imagination. Any of the Singita Grumeti properties are also incredibly romantic options.
Plan your Trip
Ready to start planning your own incredible adventure? We make the process stress-free and enjoyable.